Following his successful 2015 Relativity Tour, astrophysicist and educator Dr. Jeffrey Bennett decided to turn his attention to public understanding of global warming. The tour is currently underway, so contact Dr. Bennett if you are interested in hosting an event. Note: There is no speaking fee for this tour; in some cases Dr. Bennett will even pay his own travel expenses, if the host institution can draw a large enough audience and fill his local schedule sufficiently to make it worth his time and expense.
Global Warming Demystified
The Science, The Consequences, and The Solutions
(and why conservatives and liberals can all agree)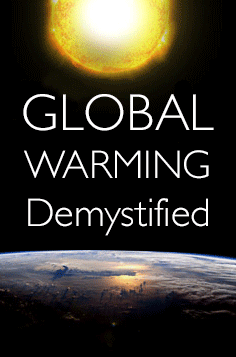 Talk Description: Is human-induced global warming real or a hoax? Most people will express an opinion on this question, but relatively few can back their opinions with solid evidence. This is true on both sides, as most "believers" are no better able to explain the scientific case for global warming than "skeptics" are able to make a case against it. Many times we've even heard politicians and media pundits say "I am not a scientist" to avoid the issue altogether. But the truth is, the basic science is not that difficult. In this presentation, noted educator Jeffrey Bennett will give you the foundation you need to speak intelligently about the science behind global warming, and show you why the solutions to this important problem are ones that people of all political persuasions can agree on. If you have any questions or doubts about the reality of global warming or what we should do about it as a nation, you're sure to come away enlightened. The level is suitable for anyone of middle school age and up. The talk is based on Dr. Bennett's global warming primer.
Presented by Astrophysicist and educator Jeffrey Bennett
Video of the talk at Fiske Planetarium, Feb. 10, 2017.
The Global Warming Tour Dates
Upcoming Talks
April 3, 2019, 8pm, Distinguished Speaker's Series, Northern Virginia Hebrew Congregation, Reston VA
April 15, 2019, DEBATE! The Soho Forum, New York City. Tickets required.
April 16, 2019, 2-3 pm, Lehman College, Music Building – East Dining Room, New York
April 17, 2019, 7:30 pm, SUNY-StonyBrook, Room ESS 001
April 22, 2019, 4:15pm, North Brookfield Elementary Auditorium, MA
April 23, 2019, Eagle Hill School, MA, details tbd
May 14, 2019, Franklin Institute, Philadelphia, details tbd
More to come!
Past Talks
March 5, 2019, 6:30pm, O'Fallon Public Library, O'Fallon IL
Feb. 27, 2019, 7pm, Trinity University, Center for Sciences & Innovation Room 437, San Antonio, TX
Feb. 28, 2019, 7pm, Warren High School Auditorium, San Antonio, TX; Note: Talk will be preceded 6:30- 7pm by a high school astronomy Q&A session.
March 1, 2019, 7:30pm, UT-San Antonio, Room Flawn Science 2.02.06
Feb. 18, 2019, 6pm, Innovation Academy, Oro Valley, AZ
Nov. 13, 2018, 7pm, University of Wyoming, Berry Center
Nov. 8, 2018, 7pm, Santa Clara University, Room Charney 102
Oct. 25, 2018, 7pm – UCLA, Math-Sciences 4000A
Oct. 11, 2018, 7pm, Michigan State University, Room 1415 Biomedical Physical Sciences
Oct. 10, 2018, 7pm, Cranbrook Science Institute, MI
Oct. 4, 2018, 6pm, Aspen Center for Environmental Studies
Sept. 10, 2018, Sonoma State University (Physics Lecture Series)
July 12, 2018, Kennedy Space Center, FL
May 14, 2018 – UCLA
April 5 & 6, 2018 – Fiske Planetarium, Boulder, CO
March 12, 2018, Steward Observatory Public Lecture, Tucson, AZ
February 15, 2018, Santa Barbara Center for Art, Science and Technology
February 14, 2018, Pomona College
February 13, 2018 – AEG Chapter Dinner, Las Vegas, NV
February 13, 2018 – Nevada State College
February 8, 2018 – 4pm, CCIRA, Denver, CO
Nov. 2, 2017, 7pm – Murray State University, Kentucky
Oct. 3, 2017, 7pm – Powder Keg Brewery, Niwot, CO
Aug. 19, 2017 – Idaho Falls, ID
Aug. 5, 2017 – Coal Creek Skywatchers
July 28, 2017 – Ball Aerospace, Boulder, CO
June 1, 2017 – Point Loma High School, San Diego
Apr. 24, 2017 – Joliet College, Joliet IL
Apr. 22, 2017 – Fiske Planetarium, Boulder, CO
Apr. 6, 2017 – Denver, Daniels Center
Mar. 22, 2017 – Broomfield, CO
Feb. 23, 2017 – East Los Angeles College
Feb. 22, 2017 – CSU Los Angeles
Feb. 21, 2017 – UCLA
Feb. 2 and 10, 2017 – Fiske Planetarium, Boulder, CO
Dec. 8, 2016 – Climate Reality Group, St. Louis, MO
Dec. 7, 2016 – University of Missouri, St. Louis, MO
Nov. 30, 2016 – Boulder Bookstore, CO
Nov. 15, 2016 – Tattered Cover, Denver, CO
Oct. 27, 2016 – BYU-Idaho, Rexburg, ID
Oct. 26, 2016 – Idaho State University, Pocatello, ID
Aug. 1, 2016 – San Francisco City College (Astronomy Teaching Conference)
Jun. 30, 2016 – Denver University (OLLI)
June 20, 2016 – La Jolla, CA (Pacific Regent)
May, 1, 2016 – Rocky Mountain STEAMfest, Longmont, CO
Apr. 5, 2016 – Northern Arizona University, Flagstaff, AZ
April 4, 2016 – Arizona State University (Poly), Mesa, AZ
Jan. 7, 2016 – City Club, Boulder, CO
Oct. 29, 30 2015 – Fiske Planetarium