Summary (Scroll Down for Reviews)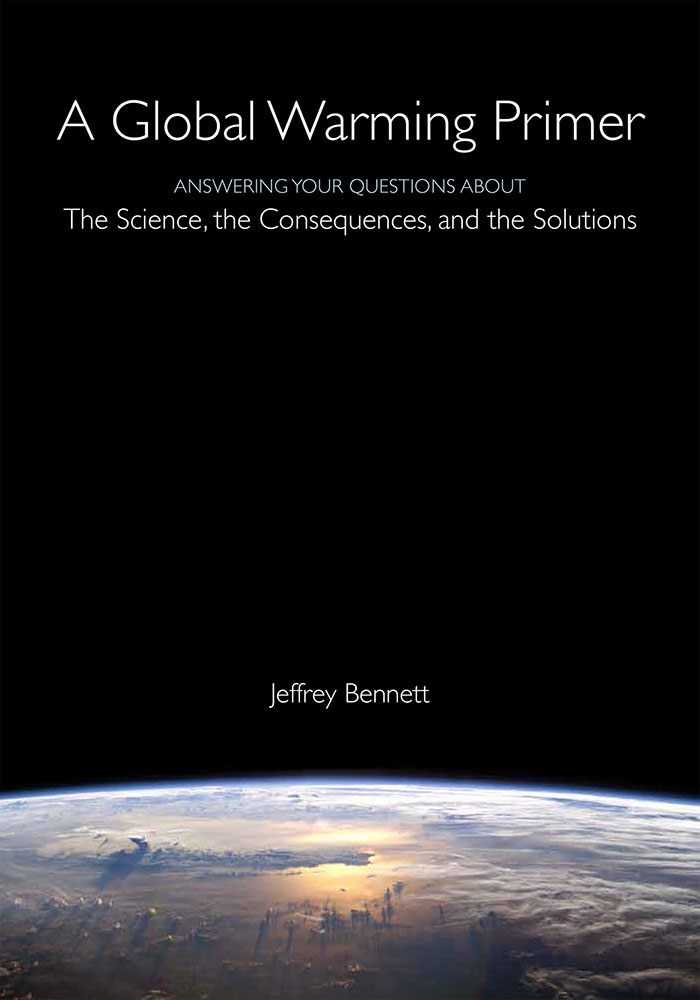 Is human-induced global warming a real threat to our future? Most people will express an opinion on this question, but relatively few can back their opinions with solid evidence. This is true on both sides, as most "believers" are no better able to explain the scientific case for global warming than "skeptics" are able to make a case against it. Many times we've even heard politicians and media pundits say "I am not a scientist" to avoid the issue altogether.
But the truth is, the basic science is not that difficult. Nor is it difficult to understand the key issues debated by skeptics, the expected consequences of global warming, or the clear, "win-win" solutions to the problem. Using a question and answer format, this book will help readers achieve three major goals:
To see that anyone can understand the basic science of global warming.
To understand the arguments about this issue made by skeptics, so that readers will be able to decide for themselves what to believe.
To understand why, despite the "gloom and doom" that often surrounds this topic, the solutions are ones that will not only protect the world for our children and grandchildren, but that will actually lead us to a stronger economy with energy that is cheaper, cleaner, and more abundant than the energy we use today.
Buy Direct
Buy on Amazon
Read Online
30% Discount
Limited Time Offer!
Choose "Buy Direct" and use code "Totality" at checkout.
Awards
SELECTION — Outstanding Science Trade Books 2017
SELECTION — Best STEM Books 2017
WINNER — Benjamin Franklin Award 2017
WINNER — Nautilus Award, Silver Medal
WINNER — Foreward Reviews INDIES Award, Silver

Reviews
"Bennett's careful and question-by-question presentation will lead any fair-minded person to see the warming issue more clearly and increase understanding of the need for concern about current developments."
— Hon. George P. Shultz, Hoover Institution, Secretary of State under President Ronald Reagan
"[A Global Warming Primer] is a slim volume of about 100 pages that covers all the basic issues of our changing climate in an easy-to-read question-and-answer format. The questions match those I have been asked many times by nonscientists and include the common arguments challenging human causes of climate change, as well as its impacts. It presents the answers with clear and accurate scientific explanations that are aimed at the educated layperson, treating the reader with respect but without compromising on the science."
— Keith Seitter, Executive Director, American Meteorological Society (Read full review)
"A uniquely powerful resource [that] presents the science of climate change clearly, in a way that will be understandable to readers without scientific training… a joy to read."
— Physics Today (Read full review)
"There are many explanations available of how global warming works, but few are as clear, comprehensive, and visually descriptive as in this book. Adults of all political and ideological backgrounds will appreciate the book's mature take on the arguments against climate change. By addressing common challenges to the concept of global warming in a respectful and enlightening manner, it expands its audience far outside the range of global-warming believers. At no point does it resort to name calling or political rhetoric. Even considering the book's strong all-around showing, its no-nonsense approach is by far its greatest strength."
— Foreword Reviews (Read full review)
"With awe-inspiring clarity and solid research, the author presents current information about global warming. He argues that basic science supports the claim that climate change is real, refutes skeptics' assertions, and posits several solutions to seriously consider. This is an extraordinary example of perceptive thinking that encourages readers to weigh the evidence for themselves."
— School Library Journal, review by Myra Zarnowski
"Jeffrey Bennett has done what many others have been unable to do: He has made climate science understandable. That is a considerable achievement given the complexity of the topic and the need for all of us to grasp the basics of what is arguably the most important topic of our time."
— Gov. Bill Ritter, Jr. (Colorado), Author of Powering Forward
"Bennett's language is simple, direct and gives clear descriptions of the science of global warming… if you know anyone who is unsure about climate change, or wants a short, "basic-level" introduction to the subject, this book is for them."
— David Kirtley, Daniel Bailey for SkepticalScience.com
"A Global Warming Primer delivers on its promise. In engaging, accessible, and accurate prose, Jeffrey Bennett clearly explains the science of climate change, ending with a thoughtful exploration of ways to solve the problems it poses for our future."
— Ann Reid, Executive Director, National Center for Science Education
"This delightfully perceptive book is a must-read for everyone concerned about our future. It covers climate's complex topics in a clear, illuminating manner. The insightful approach makes the subject accessible to newcomers and brings a fresh perspective that should interest even climate experts."
— William Gail, President (2014), American Meteorological Society
"This great book addresses common skeptical climate arguments in a way that sorts out the science from the belief on both sides of the debate. It is also bang up to date, covering the most recent analysis of the global slowdown in surface warming and changes in climate policy. I also love its optimistic focus on climate solutions."
— Piers Forster, IPCC Lead Author and Director, Priestley International Centre for Climate, University of Leeds, UK
"A friendly yet authoritative look at how we know what we know about the climate, and why we need to do something about it."
— Carl Zimmer, author of Evolution: Making Sense of Life
"Rarely has a book laid out all of the facts about climate change on Earth so clearly… this work ought to be required reading for anyone who actually cares about Earth as a planet."
— David Eicher, Editor, Astronomy Magazine (Read full review)
"If your students are as inquisitive as mine when it comes to climate change, this book would be a great addition to your classroom. Whether used as you main text, supplemental text, or reference, A Global Warming Primer will provide the facts and evidence needed to teach your students effectively."
— NSTA Recommends (Read full review)
"There are many books on the market right now about global warming and the implications for our planet, but rarely are they this engaging and easy to understand. This book deserves a place in middle school and high school libraries and would be a valuable resource to anyone looking to extend their knowledge about the science of our changing planet."
— Green Teacher Magazine
"A Global Warming Primer is an exceptionally valuable resource for educators at all levels. The scientific understanding of modern global warming as well as discussion of real-world solutions are made readily accessible via the book's conveniently indexed Question and Answer format coupled with an optional, deeper tier of explanation and evidence."
— Dr. Cherilynn Morrow, Founder of ArtSciencEducation, recipient of the American Geophysical Union SPARC Award for Education and Public Outreach
"Concise, crystal clear, packed with the best available information—this is the book to grab if you want to be well informed about climate change. Carefully stepping around controversial politics, this "primer" will give you in an afternoon everything you need to know about the science and economics that will govern the future of our civilization."
— Spencer Weart, author of The Discovery of Global Warming
"Those of us who are curious and concerned about climate change will not find a more lucid explanation of climate science. With clear explanations and surprisingly simple examples, Jeffrey Bennett takes the intimidation factor out of what the great majority of climate scientists have been trying to explain to us for decades."
— William Becker, Executive Director, Presidential Climate Action Project
"A remarkably clear explanation of the causes and effects of global warming and what we can do to address it."
— David Bookbinder and David Bailey, Element VI Consulting
"As an entrepreneur working to provide sustainable real food to communities around the world, the dangers of climate change are never far from my thoughts. For anyone who doubts the reality of the threat, this is the book to read to help you understand it. Best of all, you'll come away realizing that the problem is eminently solvable, and that the solution will help create a stronger economy and better world for our children and grandchildren."
— Kimbal Musk, Entrepreneur, Venture Capitalist, and Co-Founder of The Kitchen
"From science to solutions, this clearly written and up-to-date survey of human-caused climate change illuminates one of the great existential issues of our time."
— Prof. Richard C. J. Somerville, University of California, San Diego and author of The Forgiving Air: Understanding Environmental Change

"A creative and remarkably accessible summary of climate science and policy. Quick and easy as 1-2-3!"
— Yoram Bauman, PhD, the "Stand-up Economist" and co-author of The Cartoon Introduction to Climate Change
"I recommend this book to business leaders not only to better understand the threats posed to our economy by global warming, but also to appreciate the enormous business opportunities inherent in the transition to clean energy."
— Nicole Lederer, Founder, Environmental Entrepreneurs (E2.org)
"Author Jeffrey Bennett has an extraordinary ability to explain climate change and its impact on our planet and its inhabitants in a clear and simple manner. This is the book to read to get the true story."
— Ben Bressler, Founder, Natural Habitat Adventures
"A book that everyone should read, whether a skeptic or a believer. Dr. Bennett clearly lays out both the arguments and the explanations, using a perfect mix of answering tough questions in a simple and straightforward way that everyone can understand, along with further background for those wanting a more detailed scientific explanation. I applaud him for taking on such a difficult but critically important topic in a way that will inspire everyone to think more hopefully about the question: What can I do about it?"
— Dr. Susan Lederer, NASA Space Scientist
"A very readable and understandable presentation of the basic science of global warming. This book could go a long ways in creating an informed electorate on one of the most important issues of our day."
— Stephen Turcotte, Professor of Physics, BYU-Idaho
"A must read for everyone on our planet. A Global Warming Primer presents the facts while leaving the politics out in a way non-scientists can clearly understand. We hope everyone will do what he suggests and write "A Letter to Our Grandchildren" about what we as individuals will do based on the evidence."
— Mark Levy and Helen Zentner, Educational Consultants
"A Global Warming Primer is what you get when a first-rate writer and educator brings his cosmic perspective to the most pressing issue facing humanity. Bennett's Q&A approach, while easily digestible, is rooted in complex science that few can relate so simply, clearly, and readably. Highly recommended."
— Todd Neff, Science Writer and Author of From Jars to Stars
"This book is just what I've been looking for as a teaching aid and primer on this subject. It elegantly summarizes a huge amount of complex information and speaks with an authoritative voice clearly based on years of experience of teaching and writing on the subject. I especially like the well-chosen quotes from conservative politicians that demonstrate that this is a challenge that overrides partisan views, and the section on hopes for the future that gives an unashamedly personal opinion without concealing the real extent of uncertainty about the options that we face. If only more commentators could give such a balanced view, we'd all be better-placed to deal with this enormous challenge."
— James McKay, editor of "Dreams of a Low Carbon Future" and manager of the Centre for Doctoral Training in Low Carbon Technologies, University of Leeds, UK
"Make no mistake; climate change will affect all of our lives. This is understandably frightening, and we find ourselves in a time when many people prefer confusion and false controversy to facing this fear head-on. This book offers us just what we need right now: clarity. Step by step, question by question, the author states the facts, explains the underlying concepts, and offers us the best comfort we can have: the power to honestly face the facts of our changing planet. I wish everyone in the world would pause and read this book."
— Dr. Michelle Thaller, Astronomer, TEDx speaker
"A Global Warming Primer takes a complicated topic and breaks it down in a simple way that anyone can understand while also bridging the partisan divide that sometimes gets in the way of the science. There are multiple references throughout for those who want to delve deeper into the topics, but the general format is focused and concise, making it a quick and easy read. Everyone should read this important text — our future and our children's future depend on it."
— Gabe L. Finke, CEO, Ascentris
"Who better to help us understand global warming than the astrophysicist and educator, Jeffrey Bennett! Love how this book walks us through the scientific facts and addresses skeptic claims to provide us with intelligent talking points for discussions with families, friends, and co-workers on this important world issue."
— Patricia Tribe, CEO, Story Time From Space, and former Director of Education for Space Center Houston
"Eschewing unnecessary and arcane details, Bennett cuts right through the noisy arguments about climate change, and shows that global warming is an inevitable consequence of simple physics and the fuels we burn. He then bears down on the essential questions: are we the victims of environmental scare-mongering? And if there's a real and present danger, what should we do? In his marvelously accessible style, Bennett tells it like it is. If you don't know what to think about climate change – or even if you do – this is the one book to read."
— Seth Shostak, SETI Institute and Host of Big Picture Science
"I have read dozens and dozens of climate books and can say without equivocation that A Global Warming Primer should be on your short list. From science to solutions, Jeffrey Bennett provides comprehensive information in an easily understandable style."
— Scott Mandia, Professor of Physical Sciences, Suffolk Counting Community College
"We collectively owe author Jeffrey Bennett a huge "Thank You" for this effort to enlighten anyone with questions about global warming. He has a remarkable ability to communicate complicated atmospheric and oceanic climate factors in a manner that will permit nonscientist readers to comprehend and appreciate the critical importance of this topic. Through his use of a Q&A format, he allows the reader to either dig deeply into the scientific details or take a more casual contemplation. Don't pass up the opportunity to become informed about what may well be the most important threat to our planet, both now and for the next several generations."
— Ron Alberty, former Chief of Meteorological Research, National Severe Storms Laboratory
"By sticking to the facts in an easily accessible Q & A format, Bennett deftly explores a complicated and most critical problem of our time."
— Susan Nedell, Rocky Mountains Advocate, Environmental Entrepreneurs (E2)
"A Global Warming Primer fills a unique niche: providing a very clear and accessible description of what we know about climate change, where there are uncertainties, and the range of possible solutions. We live in a world where people's understanding of climate change is often correlated with their political beliefs — hopefully this primer will help create a fact-based understanding of the underlying science and the choices before us."
— Dr. Will Toor, Southwest Energy Efficiency Project, and former Mayor and County Commissioner, Boulder, CO
"I'm not a scientist, and I didn't need to be to understand this book. By presenting the evidence-based facts simply and clearly, this book will enable anyone to understand why global warming is an issue that we can't afford to ignore."
— RJ Harrington, Jr., President and CEO, Sustainable Action Consulting
"In clean, clear, elegant, and engaging style, Dr. Bennett lays out what scientists know about climate change and explains it in a way that will enable both young people and adults to understand what we know and how we know it. This book is a major contribution to climate literacy, taking just the right approach to engage the reader and help us all become smarter inhabitants of home planet Earth."
— Dan Barstow, CASIS Education Manager and Founder, Climate Literacy Network
"For reasons that are unreasonable to reasonable people, climate change science — and science more broadly — has been argued in recent times as a partisan subject. But this science is not blue or red; it's simply science that is essential for humankind to understand. This book admirably helps us do just that."
— Sven Lindblad, President & CEO of Lindblad Expeditions, Inc.
"With clear and detailed explanations, scientist and educator Jeffrey Bennett carefully dismantles the misconceptions that have clouded the debate on climate change, then presents the solutions we must pursue to solve this critical challenge. This book is a must-read for believers and skeptics alike."
— Andrew Chaikin, author of A Man on the Moon
"By illustrating the challenges as well as the solutions, Jeffrey Bennett's reliance on a "big picture" approach to climate change empowers his fellow citizens to embrace a fact over fear approach to resolving our climate crisis."
— Christina Erickson, Attorney and Environmental Advocate
Special Mentions and Articles