Introduction
1 – The Basic Science
2 – The Skeptic Debate
3 – The Expected Consequences
4 – The Solution
5 – A Letter to Your Grandchildren
Acknowledgments
To Learn More
"I will simply try to clarify what the debate over climate change is really about. It most certainly is not about whether climate is changing: it always is. It is not about whether CO2 is increasing: it clearly is. It is not about whether the increase in CO2, by itself, will lead to some warming: it should. The debate is simply over the matter of how much warming the increase in CO2 can lead to, and the connection of such warming to the innumerable claimed catastrophes."
— Richard Lindzen, Feb. 22, 2012 (speech to the British House of Commons)
Richard Lindzen is arguably the most prominent "skeptic" disputing the threat of global warming, primarily because he has strong scientific credentials as a professor at MIT. He has been called to testify before Congress many times, he has had numerous articles published in media outlets that argue against global warming concerns (such as the Wall Street Journal editorial pages), and he speaks frequently to groups that oppose action on global warming. And yet, as you can see from his quote above, even he does not dispute the basic scientific case that we discussed in chapter 1. He disputes only the magnitude of the threat.
In other words, while there is no doubt that global warming is real, there is some legitimate debate about how serious a problem it is. This is where you may have heard about the "scientific consensus" on global warming — namely, that the vast majority of scientists who have studied the issue have concluded that it is a serious threat to our future that therefore demands serious and immediate action. Still, it's only fair to acknowledge that it's possible that Lindzen and other skeptics could be right when they claim that the threat of global warming has been overblown. In this chapter, I'll explain the four major points of debate that have been raised by the skeptics, and we'll examine what the evidence says in each case.
Skeptic Claim 1: Earth Is Not Warming Up
as Expected
The first skeptic claim we sometimes hear about global warming is that despite what I've told you about the simplicity of the 1-2-3 science, Earth is not actually warming up the way that logic predicts. To test this claim, we simply need to look at the evidence.
Figure 2.1 This graph shows how global average temperature varied from 1880 through 2015. The horizontal line (for 0°) represents the average temperature for the entire 20th century. Notice the clear warming trend of recent decades. Source: National Climate Data Center (NOAA)

Yes, but only thanks to some very careful work. Measuring Earth's global average temperature essentially requires scientists to average local temperature measurements from many places around Earth, and this is not easy to do. For example, three fairly obvious complexities are: (1) even today, there are large regions of our planet (including the oceans and regions near the poles) for which we have relatively few temperature measurements, making it difficult to come up with a fully global average; (2) this problem becomes worse as we look to the past, when there were fewer weather stations; and (3) many measurements are made in or near urban areas, which tend to produce higher temperatures than they would if the same regions were rural or unpopulated, because urban areas generate their own heat through such means as the absorption of sunlight by pavement and the heat emitted from cars and homes (the "urban heat island effect").

Because of these and other difficulties, there's always some uncertainty in Earth's precise global average temperature. In fact, the estimate of 15°C that I gave earlier (see figure 1.3) could be off by as much as a degree or two. That is why figure 2.1 shows only temperature differences (scientists often call them "anomalies") from year to year, rather than actual values. To understand how this helps, imagine weighing yourself every day on two different scales, one of which always gives you a lower weight than the other. You may not have any way to know which scale is showing your true weight, but if you actually lose five pounds in a week, both scales will probably show the same five-pound loss. In much the same way, year-to-year differences measured by weather stations are much more reliable than their exact temperature readings. Therefore, by averaging year-to-year differences measured at weather stations around the world, scientists can get a reliable record of how Earth's temperature is changing, even without knowing the "true" average temperature. Moreover, for recent decades, ­scientists also have data from satellites1, which in effect can take measurements from all around the world, including the regions where no weather stations are located.

That said, it's still not easy. For example, the numbers and locations of weather stations change over time, the heat in cities can change as they grow, and different satellites collect data in different ways. Scientists must be very careful to take these factors into account when computing the change in temperature from one year to the next. Fortunately, several different scientific groups analyze both ground and satellite temperature data, each using somewhat different techniques2. The results found by these different groups are all in close agreement, giving scientists great confidence that the trend shown in figure 2.1 is real. Indeed, while there is some debate over the size of the uncertainties in the data, there is no serious controversy over the general trends, which show that the world has been getting warmer over the past century.

Finally, it's worth noting that the warming trend shown in figure 2.1 probably underestimates the true change. The reason is that polar regions are underrepresented in the data (because they have relatively few weather stations), and the available data show clearly that these regions are warming more than others. Therefore, if we had as many weather stations in polar regions as we do in other places, the data would probably show even greater warming.

Scientists generally state measurement uncertainty (often referred to as a "margin of error") in terms of some level of confidence, and the most common level used is "95 chance that the true value is between 0.7°C and 0.9°C. Note that these uncertainty statements are not mere guesswork; they are based on careful analysis of the data and the potential sources of error in the measurements. Of course, careful analysis is hard, and for this reason different groups may not always agree on either the "best value" of a measurement or the precise uncertainty range. Still, as I've already noted, different groups analyzing the temperature data have found results that are all in close agreement. As you might expect, the uncertainties are greater for times further in the past (when there were fewer weather stations and no satellite measurements). Overall they are approximately as follows:3

For the early years in figure 2.1 (e.g., 1880–1900), the uncertainty in the measurements (with 95 confidence) was likely between –0.3°C and –0.1°C.
The uncertainty becomes smaller as time goes on, and for recent decades (since about 1980) is down to about 0.03°C. For example, the bar for 2015 shows a value of 0.90°C, so the true value (with 95% confidence) was likely between 0.87°C and 0.93°C.
For the overall warming trend of 0.85°C since 1880, the uncertainty is about 0.2°C, so the total warming (with 95% confidence) has probably been between 0.65°C and 1.05°C.
Figure 2.3 This graph shows how the measured heat content of the oceans has changed in recent decades; the data are plotted as five-year moving averages. Notice that there has been no slowing of the rise in ocean heat content, and in recent years more of the heat has been appearing in deeper waters. Source: NOAA, www.nodc.noaa.gov/OC5/3M_HEAT_CONTENT/

Yes, there should be, and while scientists are still trying to understand the details, the basic explanation almost certainly goes as follows. The additional heat and energy trapped in the atmosphere by the rising carbon dioxide concentration can manifest itself in several different ways, and the rising surface temperature shown in figures 2.1 and 2.2 is only one of those. In fact, more than 90% of the added heat and energy is expected to warm the water in the oceans (as opposed to warming the land and ocean surface), and data indicate that the ocean waters have continued to warm without any evidence of slowing (figure 2.3). Indeed, a recent study (P. J. Gleckler et al., Nature Climate Change [Jan. 18, 2016]) indicates that the warming of the ocean water accelerated during the same period in which the surface warming slowed. Another area where the additional heat and energy can show up is in glacial melting, and there is similarly no sign of a slowdown in this melting. In other words, the most likely explanation for the slowing of the temperature increase since the late 1990s is simply that more of the added heat was deposited to the oceans and glacial melting during this period than during other periods.

If you are wondering why the heat would be deposited in different ways at different times, this is actually expected as a result of natural factors in the climate. For example, you've probably heard of the weather phenomenon known as "El Niño," which has numerous effects but is most noticeable as a warming of the eastern Pacific Ocean. El Niño events occur naturally and typically last about a year, but their precise length can vary significantly, and they recur at irregular intervals and at varying strengths. Because El Niño events affect the entire Earth, they can change the way heat is deposited.b1o80C3%B1o-index' target='_blank'>here.">4 The same is true of other natural processes in Earth's climate.

It's also worth noting that if you look carefully at figure 2.1, you'll see that 1998 was an exceptionally warm year compared to the years on either side of it. Indeed, if you were to remove 1998 from the data set, the "slowing" of the temperature rise since the 1990s would be much less pronounced. Why was 1998 so warm? It was a strong El Niño year; in fact, it came during the strongest El Niño in decades — though a similarly strong one is under way as I write in early 2016, and may explain why 2015 broke the previous one-year temperature record by such a large margin.

Bottom line: Global warming has not stopped, and while the rate of increase in the surface temperature has slowed since the late 1990s, this slowing is probably a temporary phenomenon in which more heat has been going into the oceans and glacial melting, leaving less heat going into the atmosphere. We can therefore anticipate that the upward trend in surface temperatures will continue, and if the heat absorption by the oceans slows, then the surface temperature increase will likely accelerate.

A 2015 paper published in Science magazine (T. R. Karl et al., Science 348, no. 6242 [June 26, 2015]: 1469–1472) has suggested that the actual rise in temperatures has been greater for recent years than that shown in figure 2.1. As I write this in early 2016, scientists are still debating whether this new claim is correct. I cannot claim any particular expertise on this issue, but based on discussions I've had with colleagues, I think that most scientists still assume the slow down was real. Either way, note that this claim would not in any way undercut the evidence of warming; if it is correct, it means the warming has been even greater in recent years than what I have shown you already.
Skeptic Claim 2: It's Warming Up, but It's Natural
As we've discussed, there is no longer any serious scientific debate about the general warming trend. However, a few skeptics — including some with scientific training — have suggested that the warming may be occurring for natural reasons, rather than as a result of human activity. So let's look at the evidence to see whether there is any possibility that natural factors rather than human activities are the cause of the observed warming trend.
Notice that each curve is actually two curves: a solid one showing the 11-year average and a ghosted one showing year-to-year data. Let's start with the red temperature curves. The ghosted red curve represents the same data shown in figure 2.1, but as a line graph rather than a bar chart. The solid curve is what we call a moving average (or "running mean") drawn through the first curve. That is, instead of showing temperatures for individual years, which vary quite a bit, each value on the solid curve represents the average for several years around it. This particular red curve shows each value as the average over 11 years, which means five years before and five years after each year for which it is plotted. (The solid curve stops before the end of the data set because we don't yet have a full five years of "after" data for the most recent five years.)

The blue curves are similar. The ghosted curve shows actual year-to-year data, while the solid curve shows an 11-year moving average. One subtlety: For recent decades, the data on the amount of sunlight reaching Earth are based on actual measurements made by orbiting satellites. Earlier data are reconstructed based on historical observations of sunspots, which have been reliably recorded since long before the satellite era. The sunspot observations can be translated into solar irradiance because sunspot numbers correlate very well with the amount of sunlight.

That last subtlety explains why the graph uses 11-year averages: As you can see if you look closely at the ghosted blue curve, the number of sunspots on the Sun varies in an approximately 11-year cycle. Therefore, an 11-year moving average is the "fairest" way to show the data, because it effectively removes the variations due to the sunspot cycle so that we can see the underlying general trend.
It is not possible to create an exact representation of Earth's climate (because it is too complex), so approximations must inevitably be used. Over the past few decades, numerous research groups around the world have made decisions about these approximations and developed their own climate models, each of them unique. While this might at first sound like a mess, it actually makes our confidence in modeling stronger, because despite their differences, all of these models now yield very similar results. We'd only expect this to be the case if all the models are successfully taking into account the most important climate factors. The model curves in figure 2.7 represent averages of results from several different individual models.
Skeptic Claim 3: It's Warming Up, Humans Are Causing It, but It's Nothing to Worry About
The evidence for human causation of climate change is now so strong that very few skeptics still dispute the idea of human-caused global warming. Instead, as Lindzen's quote at the beginning of this chapter indicates, the more common skeptic claim is that the scientific consensus overestimates the level of danger posed by the warming. This claim tends to come in three major forms, each of which we'll investigate here:
Skeptics point out that the climate has varied naturally in the past, and we are still here.
Skeptics claim the future warming will be less than most models predict.
A few skeptics suggest that warming may even be beneficial, rather than something to concern us.
Skeptic Claim 3, Part 1: Natural Climate Variability
There is no question that Earth's climate varies naturally over time, and skeptics have seized on this fact in two major ways. Some have used it to argue that the current warming might simply be part of a natural cycle, but we've already discussed the fact that natural factors seem unable to explain this warming. A more legitimate debate is over whether the current warming is a danger, given what we know about past climate change. So let's investigate.
The observed pattern of ice ages and warm periods lines up very well with a pattern of small, cyclical changes in Earth's axis tilt and orbit that arise from gravitational effects of the Sun, Moon, and planets on Earth. These cyclical changes are called Milankovitch cycles, after a Serbian scientist who investigated their role in climate change. (Search on the name to learn more about these cycles.) But there's a very important point that goes along with this: By themselves, the changes that would occur as a result of the Milankovitch cycles are not enough to explain the large temperature swings that occur. Instead, these cycles are "triggers" that initiate feedback processes that amplify the temperature changes.

Here's how it is thought to work when a warm period begins: The changes due to the Milankovitch cycles slightly increase the amount of sunlight warming Earth and the oceans. This warming causes the oceans to release some of their dissolved carbon dioxide into the atmosphere. The extra carbon dioxide in the atmosphere causes additional warming, which in turn leads to more evaporation from the oceans. The added water vapor further amplifies the warming, because water vapor is also a greenhouse gas. To summarize, a small warming caused by the Milankovitch cycle initiates a chain of reinforcing feedbacks that lead to a much larger warming.

An opposite set of changes amplifies the cooling side of the Milankovitch cycles. When a cycle initiates a slight cooling, the cooling causes the oceans to absorb carbon dioxide from the atmosphere. This weakens the greenhouse effect, further cooling our planet and reducing evaporation from the oceans. The reduced evaporation means less water vapor in the atmosphere, amplifying the cooling until Earth plunges into an ice age.

Figure 2.9 This graph shows a close examination of carbon dioxide concentration (yellow dots), Antarctic temperature (red curve), and global average temperature (blue curve) during the warming period that began about 20,000 years ago ("kyr" means "thousands of years"). Notice that while the Antarctic temperature changes come slightly ahead of the carbon dioxide changes, the global temperature changes do not. Source: J. D. Shakun et al., Nature 484 (Apr. 5, 2012): 49-54.

It is true that in some cases, temperature changes measured in the ice core record appear to have preceded a rise in carbon dioxide, but this does not in any way change our understanding of the cause and effect. In fact, it's completely consistent with the idea that, as discussed above, the Milankovitch cycles trigger small changes in climate that are then amplified by feedbacks with carbon dioxide and water vapor. In other words, the feedback processes mean that once the Milankovitch cycles initiate a temperature change, both the temperature and the carbon dioxide concentration will rise or fall together, and at any given moment or any given place on Earth, one or the other may change first.

Further evidence that the cause and effect are well understood comes from a closer look at data from the end of the last ice age. The details are beyond our scope in this book, but the brief summary is as follows. The ice cores that show a slight lead in temperature changes compared to the carbon dioxide changes come from Antarctica, which means they reflect the temperature changes that occurred over the Antarctic ice sheet. However, scientists have other ways to study past temperatures, such as by drilling into sediments in lakes or the ocean floor, and these make it possible to measure past temperature changes in many places around the world. This work is fairly difficult compared to ice core measurement, but figure 2.9 shows what scientists found for the end of the last ice age. The yellow dots show the carbon dioxide concentration, the red curve shows Antarctic temperatures, and the blue curve shows global average temperatures from other measurements. Notice that while the Antarctic temperature rise came very slightly ahead of the carbon dioxide rise (which, as stated above, is unsurprising), the global temperature rise came after the carbon dioxide rise — completely undercutting any claim that cause and effect are backward.9
Figure 2.10 This graph shows more than a dozen different independent data sets all pointing to the same basic fact: Temperatures in recent years (solid red) have become significantly higher than they were during the Medieval Warm Period or any other time in the past 1,000 years. This graph is nicknamed the "hockey stick" because it looks kind of like a hockey stick lying on the ground with its tip pointing up at the right. Source: M. E. Mann et al., PNAS 105, no. 36 (2008): 13252–13257.

Well, you probably have heard this, since it is frequently repeated in places like the Wall Street Journal's op-ed pages, but it is not true. The original ­version of the "hockey stick" was published by climate scientist Michael Mann in 1998, and he used only a single data set. Skeptics jumped on it, claiming all kinds of reasons why the data should be doubted. Scientists took the skeptic concerns seriously, and therefore did what scientists do: They investigated in more detail. Indeed, the reason you see so many data sets — from independent sources including tree rings, corals, stalagmites, ice cores, and more — in figure 2.10 is that the scientific community went to great lengths in trying to either confirm or refute Mann's original "hockey stick." Keep in mind that every curve you see in figure 2.10 represents many years of fieldwork and careful research by a substantial group of scientists, who often put their lives on the line to collect the data in remote and dangerous locations. As you can see, these additional studies clearly confirm Mann's original conclusions. Still not mollified, the skeptics were so adamant in their objections that they convinced Congress to ask the National Research Council (NRC) to investigate those conclusions. The NRC report, published in 2006, concluded that the graph and the data were fully valid. Additional research since that time has only further strengthened the case for the validity of the "hockey stick" and what it tells us about changes in global temperatures over the past 1,000 years. If you want to learn more about this issue, two great sources are the NRC report (which you can download free at www.nap.edu/catalog/11676/surface-temperature-reconstructions-for-the-last-2000-years) and Michael Mann's book The Hockey Stick and the Climate Wars (Columbia University Press, 2012).
Skeptic Claim 3, Part 2: The Reliability of Models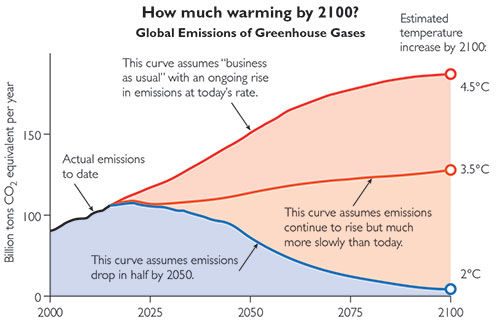 A closely related claim holds that fears of global warming are overblown, because current models overestimate how the climate responds (the "climate sensitivity") to changes in the carbon dioxide concentration and therefore also overestimate the future warming. For example, most models predict that under a "business as usual" scenario (meaning no significant reductions in our current carbon dioxide emissions), the temperature would rise by 4–5°C (7–9°F) by the end of this century (figure 2.12), but some skeptics have claimed the rise won't be more than 2°C even in the worst case. In essence, they claim that the models overestimate climate sensitivity because they are missing key factors that might mitigate the future warming.
Could these skeptics be correct? The first thing that any scientist will tell you about modeling is that it's not easy. As an old saying goes, "Prediction is hard, especially about the future." But hard is not the same as impossible, and as we've discussed, today's sophisticated climate models do a good job of "predicting" the climate that exists today (meaning that the models match reality quite well, as you saw in figure 2.7). We can therefore have some confidence that these models should be at least modestly reliable in predicting what will happen in the future.
Notice my choice of words: "modestly reliable." The skeptics like to jump all over this type of honest assessment of the validity of models and essentially claim that we therefore shouldn't rely on the models at all, particularly when they predict dire impacts from global warming. But that's like saying that hard is impossible — it's just not true. It is possible that the models will prove to be far off the mark, but we certainly wouldn't expect that, based on how well they work for the present climate. So let's look in a little more detail at the common skeptic claims about modeling and see why the vast majority of scientists find these claims unconvincing.
Skeptic Claim 3, Part 3: Benefits May Outweigh the Risks
Because there seems little way to deny the reality of global warming, some skeptics instead try to claim that this warming will be good for us and therefore that we do not need to do anything about it. This is a rather remarkable assertion, because these skeptics are essentially ­advocating that we continue doing an "experiment" on our planet without being sure of the consequences. It is especially surprising when you realize that many of the people taking this position claim to be great admirers of conservatives like Ronald Reagan and Margaret Thatcher, yet they are clearly violating Reagan's dictate about the common sense of preserving (not dramatically changing) the environment (see quote that opens the introduction) and ignoring Thatcher's warning that we are "changing the environment of our planet in damaging and dangerous ways." Nevertheless, let's take a brief look at a few of these recent claims that global warming will be beneficial.
Skeptic Claim 4: It's Warming Up, Humans Are Causing It, It's Harmful, But It's Not Cost-Effective to Solve It
We've now addressed all the major skeptic claims that relate directly to the science. However, another group of skeptics takes a different tack. This group accepts that global warming is real, human caused, and serious — but argues that the costs of dealing with it are high enough that more good could be done by applying our efforts in other areas. The best-known advocate of this idea is the Danish writer Bjørn Lomborg, but similar ideas have been advanced by many others.
Because this claim is based more on economics than on science, it's less of a clear-cut call. For example, as those behind these claims frequently remind us, the low-cost energy of fossil fuels has been a key to strengthening our modern economy and raising millions of people out of poverty. If we are going to move away from fuel sources that have had so many clear benefits in the past, we ought to have a really good reason. I think we do . . . but in order to make that decision, we need a clear understanding of the risks posed by global warming and the costs of alleviating those risks. We'll turn to these issues in the next two chapters.
Continue to Chapter 3 – The Expected Consequences